Date: 17 February 2010
An ABC member was recently doing a pre-purchase inspection of a 1960's home and saw remnants of friable asbestos lagging on hot water piping. This is not uncommon. The following advice was given to the client:
"Asbestos lagging remnants were seen on hot water piping. It would be unusual for only a small part of the piping to have been lagged so it is likely that the bulk of the lagging was taken out either prior to or after the installation of the pink bat insulation.
Rectangular Callout: Piece of the gas heater flue - also asbestos but non-friable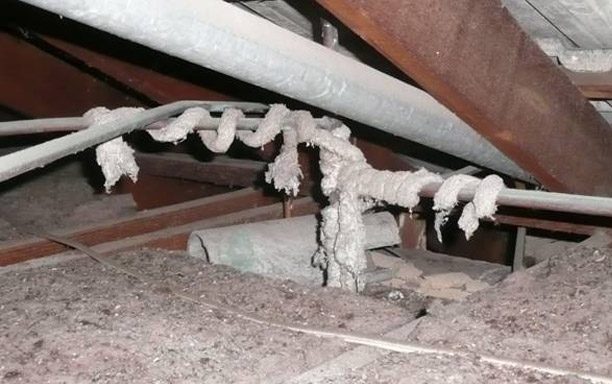 Above: Asbestos pipe lagging remnants - friable. Fibres can readily become air-borne.
It is unlikely the removal of the bulk of the lagging was done professionally, as a professional removal job would not leave remnants of lagging. There may therefore be friable asbestos on or under the ceiling insulation, probably in line with the hot water pipe runs, but could be anywhere the lagging has been dragged around the roof void.
To verify the extent of asbestos fibre contamination of the roof void, a professional asbestos search investigation would be required involving collection of many samples of the insulation and testing in a laboratory.
If asbestos fibre contamination is verified, removal should be done by registered, qualified contractors, to approved standards. That would involve a major cost exercise. Incidentally, in this property, there was
likely to be non-friable asbestos in eaves sheets, heater flue, meter board, old fuses and the old gas heater components.
Friable asbestos is a major health risk, as is non-friable asbestos where dust is released by sanding,
grinding, drilling or the like. Deadly asbestos related diseases include asbestosis and mesothelioma".